Blue White Photo Booths offers photo/video booths that are great for Weddings, Proms, School Reunions, Bar/Bat Mitzvahs, Corporate Events, Parties, and more! Check out all of the benefits of renting a booth from us below.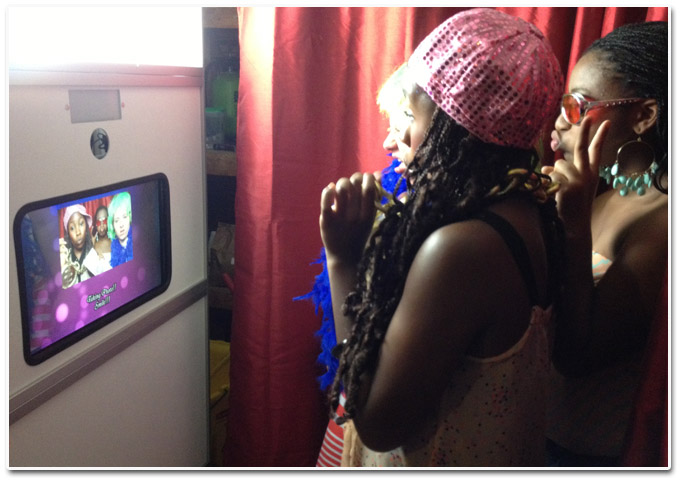 The Ultimate Party Favor
Guests will walk away with fun and creative prints. We include unlimited photo sessions with quality color and black & white prints.
Ultra-Fast Printing
Our prints are usually out to you within 20 seconds. Faster printing means you'll walk away with more prints at the end of your event.
Sleek-Design
Our booths are designed and manufactured with you in mind. We want the booth to be part of your event, not the event. Our booths are meant to draw attention but blend in to not take away from everything else.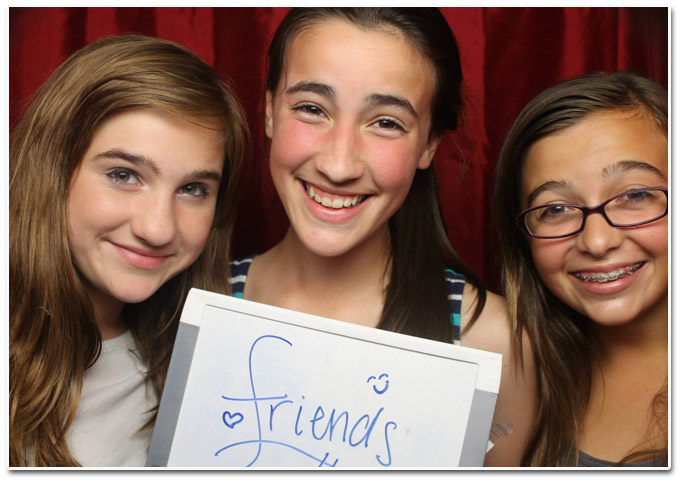 Unsurpassed Quality
Unlike the grainy, washed-out prints you've seen in mall photo booths, we offer archival quality photos on professional photo paper.
Small Footprint
Our booth fits through any doorway and up or down any set of stairs easily.
The Memories
We offer a leather scrapbook for your friends and family to glue their photo strips into. Along with their fun photo, they have the option of writing a special message with our 48 various colored gel pens. It's the perfect collection of memories to keep for life!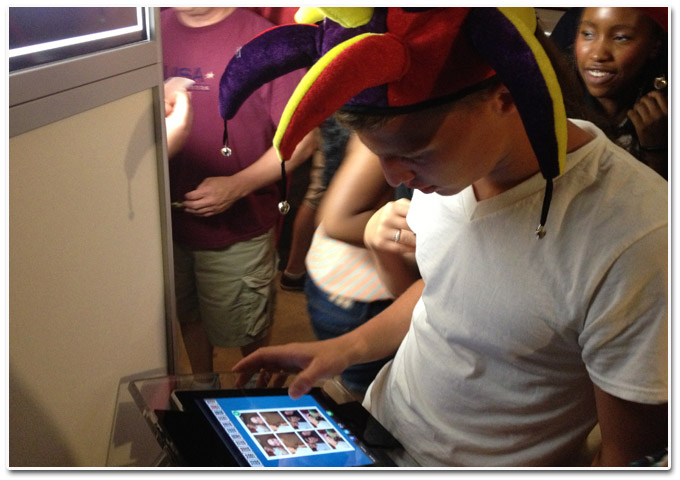 Social Media Integration
Our booth instantly transfers all pictures to an iPad located in the area for guests to edit their pictures. They then can share the pictures to their Facebook, Instagram, and Twitter or even E-mail/MMS message them out. This is a great additional feature to the booth for your guests to have fun with.
---
You can't beat the quality and the price of this photo booth. Definitely the best one in town. We booked last minute, a week before our wedding. Jordan made the process easy, set up the day before, and everybody loved it at the wedding. Thank you! -Kenton
Q: We definitely want your photo booth, and we know the date, but that's all as of right now. What do you suggest… Wait until we know more info or..?
A: We will do as much as we can to make things easy for you. We understand that there are many variables when it comes to your wedding/event, so if you reserve your date with us with the deposit, you can still choose the package and specifics later on when you have a better idea of what you would like.
Q: How much of a deposit do you require?
A: If the event is more than 120 days away, we only require a $200 deposit plus sales tax. If the event is under 120 days away, we require full payment.
Q: Are there any hidden fees?
A: All of our pricing is on our website, under the Packages tab. We try to make our pricing as clear as possible. We don't like hidden fees, and we know you don't either. Wedding/Event planning is stressful enough, we don't want to make it even tougher by tacking on last-minute hidden fees.
Q: How far will you travel?
A: We travel anywhere in the state of Pennsylvania. Depending on the distance, there may be a travel fee charged. Please look at the different packages for specifics.
Q: Does Blue White Photo Booths provide discounts for Non-Profits/Charities?
A: Yes we do. We have done multiple non-profit events, and work with them individually to try and create a custom package that works.
Q: How big is your memory book?
A: Our memory book has 10 pages, double-sided. Each page is 12" by 12". Available in either black or white.
Q: How many people fit in your booth?
A: We think it's a travesty when we see booths that only fit 2-3 people comfortably, so our Enclosed Photo Booth fits 5-7 people comfortably. Our Open-Style Photo Booth can fit up to 10 people.
Q: How much space do you need for your booth setup?
A: We always recommend at least a 12x10 spot (15x10 preferably). Not because our booth takes up that much space, but so that we have enough room for all of our props, the guest book, and for people to not feel trapped while waiting in line. However, we understand that not all venues can give up that much real estate for a photo booth, which is fine and we understand, and can make adjustments to make it fit.
Q: Do you provide reprints & unlimited photo sessions?
A: Absolutely! When we first started our business, we knew that this was a no brainer. However, many people were always asking us this question and we found out that many competitors DID NOT offer this. We will make sure that anyone in the photo that wants their own copy, will get a copy.
Q: How long does it take for the photos to print out?
A: Our printer prints out 2 photo strips in under 20 seconds, which keeps things moving and reduces wait time. If more than 2 photo strips are needed, we will print extras for anyone in the photo.
Q: What kind of printer do you use for your photo strips?
A: We use a sub-dye printer... These are the same printers you would find at a photo shop where you get your photos printed. We do not use inkjet printers.. your photos will not last that way.
Q: Does your photo booth ever have problems?
A: Our photo booth is made up of electronic devices; all electronics occasionally have an issue. We would be lying (and so would any other photo booth) if we guaranteed that there would be no possibility of errors. This is the main reason why we have a full time attendant there throughout the event. Whether the ink or paper need replaced, or there's an electronic error, our attendant will correct the problem in a timely manner, and stay overtime to make-up the down time. Again, these are rare cases, but can happen. These are usually corrected within 5-10 minutes.
Q: My venue requires that my vendors have liability insurance, do you have coverage?
A: Yes we do. We can provide a copy of our business insurance to your venue, by request.
---